Episode Ninety Four

Victory over the Oni and investigation of the secret it was guarding has only raised more questions. No matter how our heroes decide to rule it seems war is inevitable. Our group of Samurai face off with a dangerous and terrible Oni.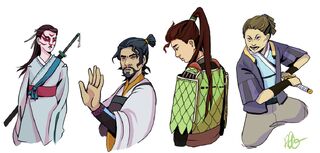 Ad blocker interference detected!
Wikia is a free-to-use site that makes money from advertising. We have a modified experience for viewers using ad blockers

Wikia is not accessible if you've made further modifications. Remove the custom ad blocker rule(s) and the page will load as expected.