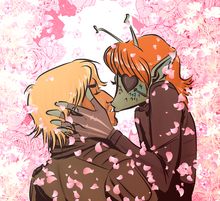 The One Shot Network Kink Meme is a project organized by fans of the network. It allows fans to anonymously submit requests for fanfic, and for people to anonymously fill those requests.
Despite the name, it is not necessarily erotic or NSFW requests only, but rather, a space for people to write and ask for what they want, without fear of judgment.
You can find the OSN Kink Meme here.
The Kink Meme was created by noted smut-enabler @coasterchild with help from @maddiekayray and @High_INT_No_WIS
Ad blocker interference detected!
Wikia is a free-to-use site that makes money from advertising. We have a modified experience for viewers using ad blockers

Wikia is not accessible if you've made further modifications. Remove the custom ad blocker rule(s) and the page will load as expected.